For the last 6 months, I've had the privilege of trying three various Kèrastase ranges that have kept my hair healthier than ever before. A little background about my hair: I color it every 3-4 months with my ends often left a little dryer than the rest of my strands from my preferred ombré look. My scalp is oily and my hair has always been unusually fine and flat.
Kérastase is a French-based international luxury haircare brand, that forms part of the portfolio of the professional products division of the multi-national parent company the L'Oréal Group. Their products are luxurious and definitely cost more than your average drug store brand, but what they deliver is above and beyond. Here are the three lines I've been fortunate to try: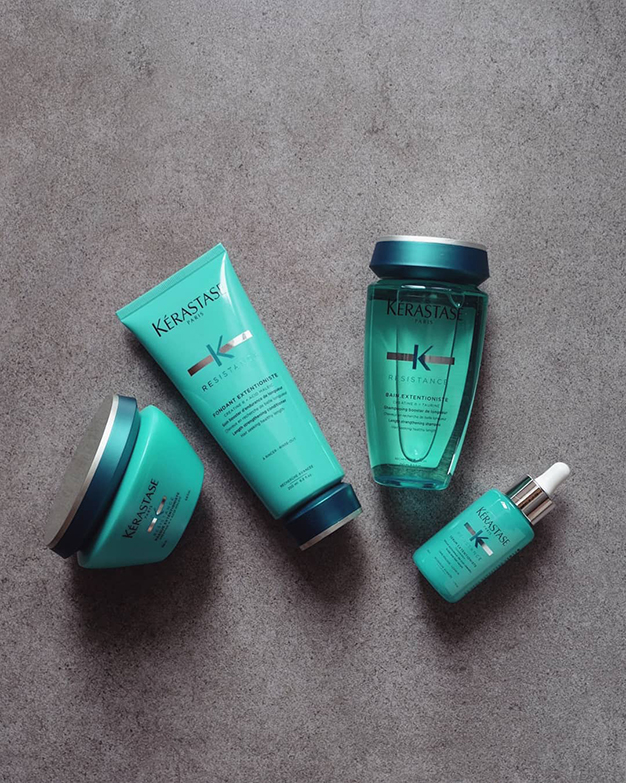 Launched just last year in August, the Kérastase Resistance Extentioniste was designed to give new life to damaged hair.
Created by the Recherche Avancée L'Oréal Research Institute to eliminate the pain points of hair growth, the Kérastase Résistance Extenioniste range is comprised of four products powered by Creatine-R Complex to achieve optimal hair length.
"Creatine-R Complex is a natural amino acid that efficiently improves strength, increases muscle mass, and helps muscles recover quicker during exercise. This is a key ingredient in the line. With Kérastase Résistance Extentioniste, hair is treated to a training program that will strengthen and reinforce the hair's internal structure for long and luscious locks," as described in Kérastase's press release.
MY VERDICT: I personally LOVE this line. This was the range that brought new life to my fine hair. After every use, my hair felt thicker and healthier. It shined like new and I would definitely re-order this line, especially the conditioners and hair masque.
The Discipline Oléo-Relax is designed for Asian hair – and promises to manage frizzy tresses that become uncontrollable throughout the day – especially due to our tropical humidity.
"Infused with potent Morpho Huiles™ technology, the new Oléo-Relax repairs the hair with Shorea Butter, makes the hair fiber impermeable by humidity with Virgin Coconut Oil, protects the strands with Rosa Muscata Fruit Oil, and gives a brilliant shine with Inca Peanut Oil," as promised by its press release.
MY VERDICT: This line's oils and conditioner are a little too heavy for my already fine hair. But for my sister-in-law who has a beautiful thick main of hair (that even needs to be under shaved for control), this line did wonders. Her hair looks really wonderful using this line and she would highly recommend it for anyone with similar hair.
Meanwhile the Discipline's advanced, Pro-Keratin products are formulated for those with curly hair. Coarse waves and curls are helped to have more definition without any stiffness
MY VERDICT: The shampoo of this line was actually quite lovely on my fine hair and did't require me to use conditioner after. Definitely keeping it!
All in all, I was so fortunate to be able to use these Kérastase products and my coloured, fine hair responded to them extremely well.
Interested in trying Kérastase? I'm happy to report that it can be purchased online at www.hairmnl.com and in Kérastase partner salons and the SM Mall of Asia Department Store.