Linea Etnika is a local clothing brand founded by Looie Lobregat and Quezon City Vice Mayor Joy Belmonte. After becoming friends through the Congressional Spouses Foundation Inc, where they were both representatives of their fathers, they saw the potential to help keep alive the tradition of Yakan Weaving and offer Mindanao women a sustainable livelihood.
As President, Looie is very hands on with managing the company. She consults with Joy, who finds time to provide support despite her full schedule as Vice Mayor..
After learning about Linea Etnika and receiving the Pia top (pictured above), I was so moved by their brand's mission that I invited Looie to share a little more about what they do in that hopes that you will be inspired to support them too.
Hi, Looie! What is the story behind the name of the brand?
My father is proud he helped me come up with the name!
Linea Etnika – n. Linea is a Spanish word for line. In Chavacano, a Spanish based creole spoken in Zamboanga City, it means the same. adj. Etnika comes from the word ethnic. It pertains to the indigenous weaves, which are proudly used on our clothing to keep our culture relevant to chic fashion
Looie with the Yakan Tribeswomen 
What is the mission of your brand?
My family is from Zamboanga City where we have the Yakan Weaving Village. The Yakan People were originally from Basilan but in the 1970's some of them moved to Zamboanga City due to unrest. There are now over 40 families in the Yakan Village that call Zamboanga City their home. We aim to preserve and promote their culture and tradition of weaving using a backtrap loom by using fashion as our medium. It takes 4 days to fix the pattern on the backstrap loom and another 4 to 5 days to weave a meter. Weavers learn at a very young age from their mothers and grandmothers and pass on the tradition through memory. Yakan weaves are known for their tightness and intricate bold, geometric and symmetrical patters inspired by nature and island weaving.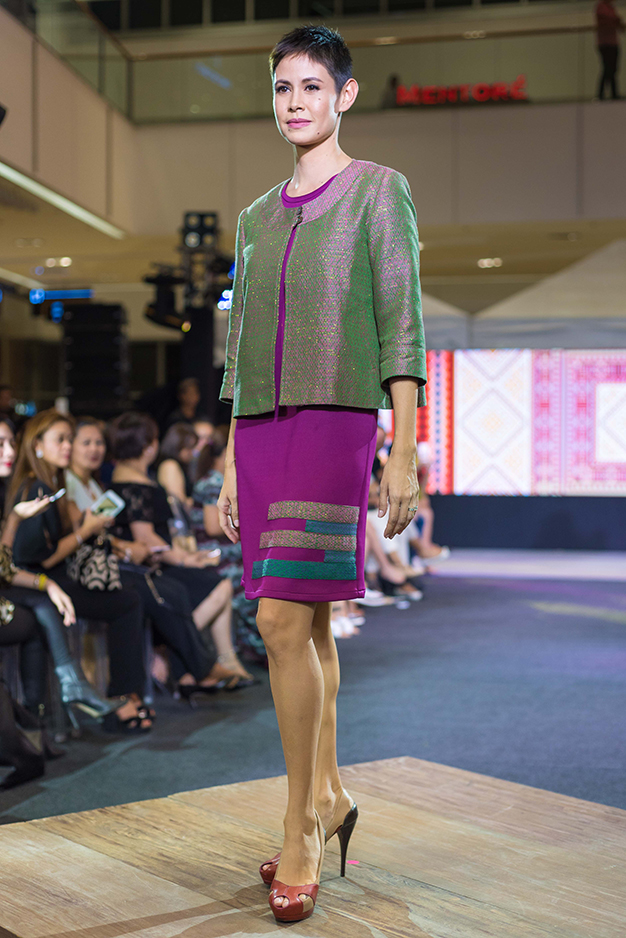 Muse Margarita Valdes wearing the Elena Jacket paired with the Marta dress 
Our family's relationship with the Yakan People at the Yakan Weaving Village in Zamboanga City started with my grandmother, Maria Clara 'Caling' Lobregat. I am grateful to be nourishing that relationship through Linea Etnika.
My heritage inspires me to create products that make weaves more mainstream and celebrate the stories of the hands that make them.
This process becomes more meaningful when we collaborate with communities empowered through dignity of work and respect of culture; when we build relationships that add value; and when we do things with gratitude which make the Filipino shine.
We look for opportunities to also involve communities from Quezon City. We work with communities in Payatas and Barangay Pasong Tamo for our packaging. We've also worked with the residents of the Quezon City Jail Female Dormitory at Camp Karingal for our notecards.
Which pieces have become your best sellers?
The Joy dress was the first product we introduced to the market. Joy took a photo of me wearing our sample and when she posted it on FB it generated over 1k likes. The positive feedback we received was encouraging. We knew we were on to something good! The Joy round neck tunic dress made in neoprene and embellished with handloom Yakan weaves on the chest area and shoulder detail is a favorite. Yes, it has pockets!
The Looie dress The V- neckline which suits almost all body types and draws attention to your face is a bestseller. Also made in neoprene which falls nicely and doesn't crease easily. It is decorated with handloom Yakan weaves on the cuffs and bottom hem. Yes, with pockets too!
Elena Jacket – The entire jacket is made of handloom Pagal Bato Yakan weaves which are extra special since it is traditionally used as the Yakan bride's jacket. The intensity of color changes depending on the light and angle you are viewing it from.
Lola Slip Ons – Launched last April during Lola Caling's birthday. I was very close to my Lola and know that somehow she is guiding me on my journey. She was known as Nana de Zamboanga or the Mother of the City. She had a sapatilya in all colors to match her Saya. This was her everyday outfit. She was an advocate of culture. A Marikina shoe company called the sapatiya, Maria Clara, in honor of my Lola. I modernized her sapatilya and called it Lola =) Sending a photo of me wearing the Lola Slip Ons with the Yakan kids.
Tin Wrap – This contemporary wrap made in handloom Tausug weaves from Sulu was traditionally worn as a Kambut (belt/sash) by Tausug men. It adds pizzaz to a monochrome outfit and can be worn many ways. Some use it as a bandana or even put it on with the backside on the chest area. The splash of color reflects the weaver's mood.
Capa del Sur – We transformed the Tausug Pis Yabit (headpiece) into a modern cape made in handloom Tausug weaves come from Sulu.
We now have over 15 clothing styles and 6 shoe designs. Our leather shoes are handcrafted by artisans in Marikina through a collab with Lupe Saenz. Each pair is finished with Yakan weaves.
We make carabao horn pendants too using the retazos of our indigenous weaves and semi precious stones. Upcycled and repurposed all the way.Another accessory is the Mai Wristlet made of snakeskin and enhanced with indigenous Yakan weaves. You've got the Philippine archipelago in your hands with weaves from Mindanao, snakeskin from the Visayas put together by hands from Luzon.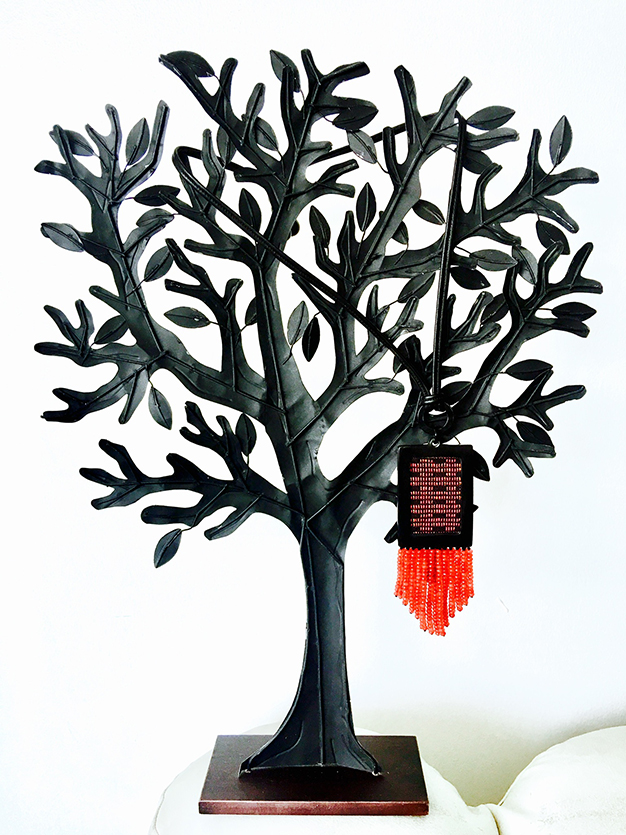 Our retazos are too precious to waste so we also use them on our packaging sewn in Payatas, QC and on notecards which were made by residents of the Female Dormitory of Camp Karingal in QC. The women awaiting dispensation of justice were given an opportunity to earn. They cut and pasted the retazos on the notecards. The designs on the notecards relate to Zamboanga City and Linea Etnika. We commissioned an artist to create the images using watercolor and ink.
We also had a collab with Casa Mercedes which involved the printing of the Yakan pattern on the abanico. A portion of the proceeds from the sale of the fans were donated to the Yakan Village in Zamboanga City last December.
Who are some of the muses of your brand?
We love all our #LineaEtnikaWoman. They are modern women who wear many hats, are empowered and contribute to their various fields. We are grateful for their support!!
Our #LineaEtnikaWoman list includes…
Vice President Leni Robredo- we made her the Leni dress but the Daniela top is her favorite!
Senator Loren Legarda
QC Vice Mayor Joy Belmonte
Kelly Misa – Top Model and host
Marga Valdes – Accessories designer
Reese Fernandez-Ruiz of Rags2Riches / Things That Matter
Tintin Bersola – we named the Tin Wrap after her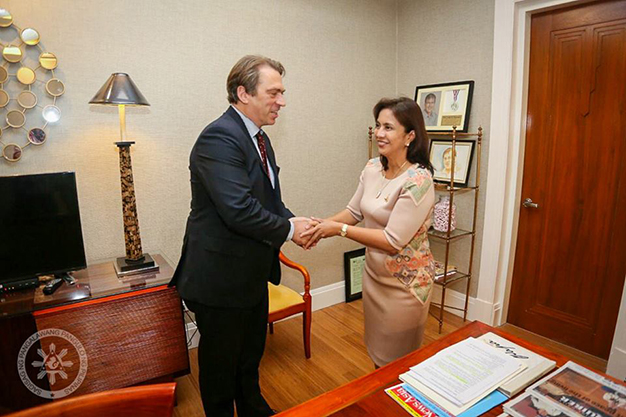 Muse Vice President Leni Robredo wearing the Leni dress
Muse Kelly Misa wearing the Looie Dress
What do you have planned in the future?
Linea Etnika turns 2 in April! So much has already happened and we are grateful for all the opportunities, for the advocates believing in our mission, the stockists and various partners and brands we've worked with for the trust and confidence and most especially to our weavers, our sewers and the hands that make our products for giving our work meaning. We will continue to deepen our relationship with them and stay close to our advocacy to keep the beautiful tradition of handloom weaving alive by making weaves mainstream.
Last December we had the turn over ceremony of two weaving centers, a marketing office, high speed sewing machines and materials for weaving, a newly built fence and a concrete path at the Yakan Village in Zamboanga City. This initiative was made possible through the help of my father, Celso Lobregat, who is the Congressman for District 1, and the Department of Labor and Employment. There were representatives as well from the DTI and Tesda to encourage them to collaborate for the sustainable progress of the Yakan People. We will continue to use Linea Etnika as an avenue for various sectors to give more attention to the Yakan People. It was also during the Turn Over activity that we shared a portion of the sale from the fans to the community. They bought musical instruments for the village and kept some of it for future use.
Muse and Linea Etnika co-founder Joy Belmonte in a Joy dress during her oath taking
With the newly built weaving centers, the young weavers, from age 8 were excited to weave.
We will strengthen our presence with our existing retail partners and look for other possible venues to market our products. Joining fairs like ArteFino and Pop-Ups are still in our marketing plan. We enjoy the personal encounters during these events where we can get first hand feedback from our clients. Hopefully we get the chance to explore the global market too!
Part of our advocacy is to generate awareness about Zamboanga City and the Yakan People. I had the chance to work with the Fashion Marketing and Promotion students of SOFA last year and was also invited to speak at the launch of Things That Matter. I look forward to more occasions like these.
Where can people try your items?
We are stocked at Rustans Makati, Kultura SM Makati, Lily Lifestyle Boutique on the 3rd floor of Discovery Primea along Ayala Avenue and for the people in the North we have a rack at Rags2Riches in UP Town Center. In case the item they want isn't available with our stockists they can shoot us an email and we can make arrangements for them to try at a venue in Makati.
Humbled and honored we were recommended by the DTI under their Go Lokal initiative to fast fashion retailers. We had just turned 1 when our slow fashion brand found a comfortable spot on the floor of fast fashion retailers such as Rustan's and Kultura. Rags2Riches was our very first mall experience.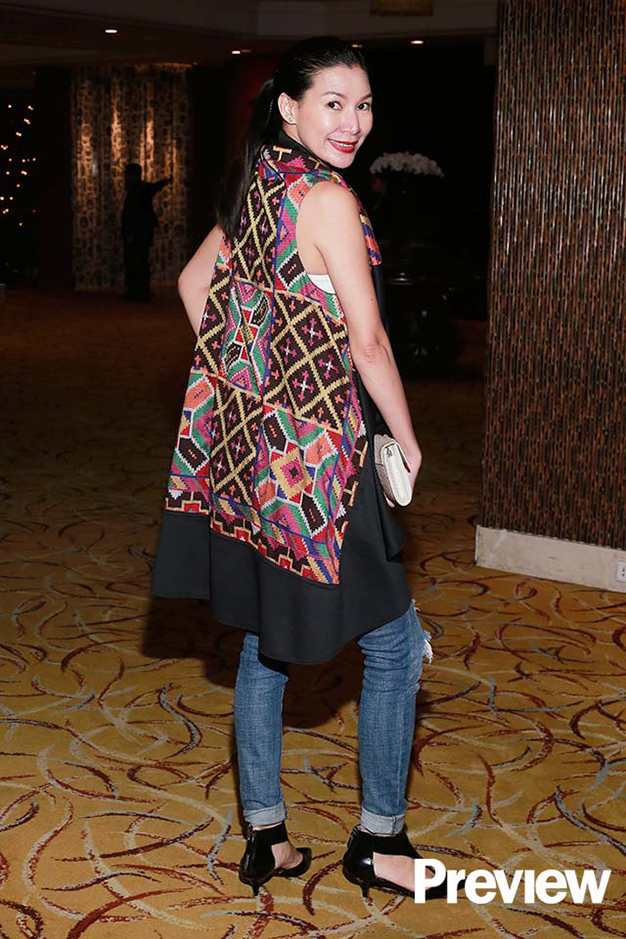 Muse Bambi Camus in a Capa Del Sur cape
Can people custom make a piece?
To as certain extent yes. We can make the pieces in your preferred color and find a suitable weave to complement. We can adjust the length of the hem and the sleeves too.
Want nab a Linea Etnika piece? You can order online through their:
Website | Facebook | Instagram
They are also available online through www.thingsthatmatter.ph 
(All images courtesy of Looie Lobregat of Linea Etnika)