The Baby Barangay girls and I recently got together to try the new Filipino dishes of Green Pastures, one of our favourite restaurants in BGC.
We often enjoy coming to Green Pastures for their fresh juices, delicious bread and dips, and hearty salads, so we were super excited to try how Chef Robby Goco was going to serve Filipino food in a healthy yet tasty way. Here are the dishes we enjoyed!
Shrimp in Sweet Potato Fritters: These were soooo good! The perfect mix of sweet, salty crunch. The dipping sauce was equally amazing. I would come back just for a plate of this.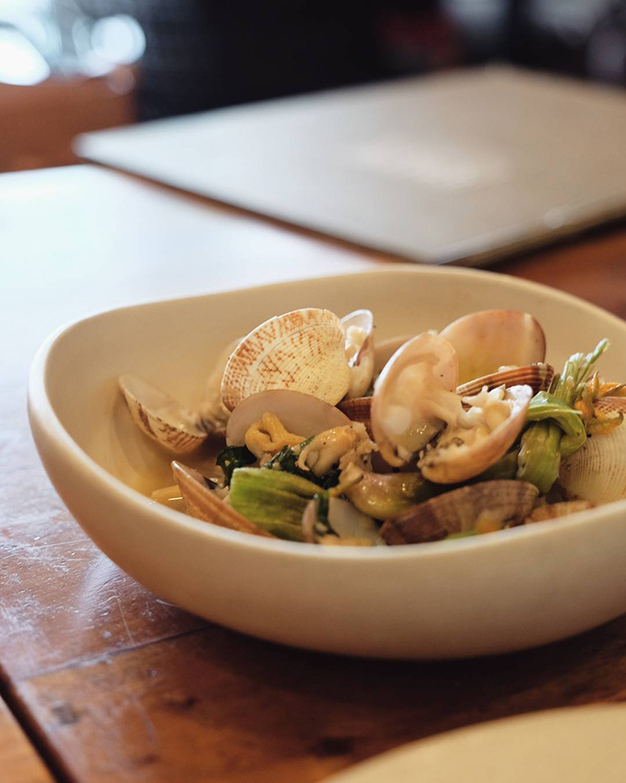 Steamed Clams: In a Binacol stock. These were super tasty without any rubbery texture or fishy aftertaste.
Taro Leaves and White Cheese Dip: Laing has never been so tasty as this appetiser with the perfect crunch from the chips.
Ceviche and Roast Pork Sinuglaw: A favourite of Nicole's who cleaned the entire plate. This local dish done right.
Sous Vide Chicken Inasal: My favorite Bacolod Chicken Inasal just got taken up a notch with organic, free-range chicken.
Yellow Adobo: A Goco family heirloom recipe that doesn't use soy sauce. Only  quality vinegar and turmeric. Patty's son Theo loved this so much that he sent a vide thanking him for the amazing food!
Naaaaaks Fried Chicken: Crispy organic chicken, well seasoned sweet potato fries and homemade banana ketchup.
Jackfruit Kare Kare: This was so delicious that you won't even miss the meat. You may even ask for an extra serving of bagoong.
Crispy Short Ribs: Cooked slowly for 24 hours and then deep friend.
Bibingka: This was so good! Moist, buttery, salted egg + cheesy goodness in every bite. I think you will forget your name!
Chia Seed Dessert: Similar in taste to the much loved ginataan but much healthier.
What makes Chef Robby Goco's creations so wonderful is that he doesn't use MSG, soy sauce, or any other canned ingredients in any of his dishes. Aside from olive oil, every product in his restaurant is locally sourced and created FRESH in the kitchen. Yup, no commissary for Green Pastures.
It's safe to say that the girls and I loved everything and are already looking forward to our next trip back.
Green Pastures BGC is located at the Ground Floor, Net Park, 5th Avenue, Bonifacio Global City, Taguig City.
Learn more about them through their: